Visible light is generally defined as the portion of the electromagnetic spectrum between 380–400 nanometers (nm) and approximately 760 nm. Within the visible light spectrum, blue light (400–500 nm) is of particular importance.
Man‐made sources of broad‐spectrum intense visible light include arc welding or cutting, arc lamps, spotlights, gas and vapor discharge tubes, flash lamps, open flames, and explosions.
The majority of infrared (IR) radiation is emitted from the sun, but man-made devices also contribute to its proliferation. It is estimated that more than half (54%) of the sun's radiation is infrared, whereas 39% is the visible rays and the remaining 7% is the ultraviolet rays. We experience IR radiation every day in the form of heat because IR waves are thermal. Man‐made sources of IR radiation include heated metals, molten glass, home electrical appliances, incandescent bulbs, radiant heaters, furnaces, welding arcs, and plasma torches. Glassblowing and working in glass and steel plants are considered potentially hazardous due to excessive IR radiation.
Infrared radiationis divided into the following three bands:
IR‐A (near-infrared): 760 and 1,400 nm
IR‐B (mid-infrared): 1,400 and 3,000 nm
IR‐C (far-infrared): 3,000 nm and 1 mm
For all currently known arc and incandescent sources, the contribution made by the IR-C spectral region (above 3,000 nm) is normally of little or no practical concern.
Health Effects
In most circumstances, visible light is not hazardous, and measurement of continuous visible light emissions is usually not necessary. When exposed suddenly to a highly intense visible light source, most people exhibit an aversion response that includes blinking and turning the head. This response typically occurs within 0.25 second; this time period is used to calculate exposure limits for radiation in the visible spectrum.
Under some circumstances, visible light can be harmful— for example, when it is presented suddenly, as in a flash or explosion, or when equipment is first turned on. If the intensity is high enough to cause damage in <0.25 second, the body's natural protective mechanisms will be insufficient. It is also possible to create a hazardous situation by suppressing the aversion response and staring directly at a high‐intensity light source such as the sun (solar maculopathy or eclipse photoretinitis) or a welding arc (welding‐arc photoretinitis).
The eyes and skin are the organs most susceptible to damage by optical radiation. The type of effect, injury thresholds, and damage mechanisms vary significantly with wavelength. The effects may overlap and must be evaluated independently. Different types (and degrees) of damage to the eye can occur, as follows:
Thermal damage of the cornea, approximately 1,400 nm–1 mm
Thermal damage of the iris, approximately 380–1,400 nm
Near-infrared thermal damage of the crystalline lens, approximately 800–3,000 nm
Thermal damage of the retina 380–1,400 nm
''Blue-light'' photochemical damage of the retina, principally 380–550 nm (300–550 nm for the aphakic eye)
Photochemical damage of the eye from chronic exposure to bright light
Photochemical injury dominates with exposure of the eye to wavelengths of visible light between 400 and 500 nm (blue light), which has an impact on the crystalline lens.
Thermal injury is strongly dependent upon heat conduction from the irradiated tissue. It requires an intense exposure to cause tissue coagulation. When exposure is less intense, surrounding tissue conducts heat away from the exposed site. In general, shorter exposures require higher temperatures to produce the same degree of damage. The injury from accidental exposure to arc lamps or the sun, for example, is both thermal and photochemical.
Chronic Blue Light–Induced Retinal Injury
Blue-light retinal injury can result from viewing either an extremely bright light for a short duration or a less bright light for a longer duration. Measurement of the spectral radiance of the sun has shown that the exposure limits for blue light can easily be exceeded when viewing the sun. Viewing the sun directly is very hazardous and should be avoided. Even typical or "normal" outdoor exposure to sunlight can result in damage to the retina over a period of many years. Lifelong exposure to the blue light portion or possibly the entire visible spectrum of ambient sunlight can increase the risk of age-related macular degeneration, a leading cause of blindness in older persons.
Wearing amber- or red‐tinted glasses is recommended to reduce blue light exposure.
Near‐Infrared Exposure and Cataracts
The most common eye disease associated with near-infrared radiation is cataracts. Prolonged exposure to IR radiation causes a gradual but irreversible opacity of the lens. Other forms of damage to the eye from IR exposure include scotoma, which is a loss of vision due to the damage to the retina. Even low-level IR absorption can cause symptoms such as redness of the eye, swelling, or hemorrhaging.
Cataracts caused by near‐infrared radiation have been noted historically in glassblowers and furnace workers. Radiation between 800 and 1,200 nm is most likely responsible for temperature increases in the lens itself because of its spectral‐absorption characteristics. Visible wavelengths may also contribute to the problem, since the heat absorbed by the iris could result in heat transfer to the lens.
Acute Skin, Cornea, and Iris Injury
IR radiation below 3,000 nm will penetrate into different depths of the cornea to varying degrees, depending on the specific wavelength. The iris can absorb energy only at wavelengths below approximately 1,300 nm.
IR thermal injury may have significant biological effects on the human skin. The IR-A rays induce free radicals in the dermis and diminish the skin's antioxidant capacity, the main cause of premature skin aging.
Both the skin and the cornea are opaque to wavelengths >1,400 nm. Exposure to IR radiation in this region causes injury through thermal mechanisms, with absorbed radiation being converted to heat.
Light and Infrared Exposure Limits
The threshold limit values (TLVs) refer to values for incoherent (non-laser) visible and infrared radiation in the wavelength region of 305–3,000 nm that nearly all workers may be exposed to without adverse health effects. The values are based on the best available information from experimental studies. The TLV values for occupational exposure to broadband light and near-infrared radiation incident upon the eye apply to exposure durations in any 8‑hour workday.
TLVs can be calculated for three types of injury:
retinal thermal injury from exposure to 385–1,400 nm radiation
retinal photochemical injury from chronic blue light (400–500 nm) exposure
possible delayed effects leading to cataract formation from exposure to 770–1,400 nm radiation
The full list of TLVs and how they are calculated can be downloaded from the following link:
Light and NIR Threshold Limit Values (TLVs)
Exposure Assessment
To evaluate the hazard, the exposure to the eye and skin at the location of exposure is compared with the respective exposure TLV. Depending on the source, several measurements with different detectors have to be taken.
If the results do not exceed the exposure limits, no further assessment is required.
If the results exceed the TLV, the maximum exposure time should be calculated. In such cases, the work task needs to be re-evaluated and engineering and/or administrative controls have to be implemented.
For more information or for a request for evaluation and measurements, contact the subject matter expert for non-ionizing radiation listed on the NIR safety home page.
Exposure Controls
If light hazards have been identified in the work place, it may be necessary to implement one or more control measures to eliminate exposure or reduce it to as far as is reasonably practical. The hierarchy of controls is described below.
Elimination or Substitution
Careful consideration should be given to whether exposure to the light hazard can be eliminated by altering the process used or whether the light source can be substituted for one that is less harmful. If this is not possible, or if the risk is not sufficiently reduced (i.e., in the cases of substituting for a less harmful source), then consider implementing engineering controls.
Engineering Controls
Engineering controls help to prevent an employee from coming into contact with light hazards. Examples of engineering controls include filters, screens, dedicated rooms, and curtains. When possible, enclose, provide a barrier, or orient intense short-wavelength light or IR sources so they cannot be viewed. Bear in mind that optical radiation such as visible light and IR can be reflected off shiny surfaces. The walls of the enclosure should have a matte finish.
Personal Protective Equipment (PPE)
If it is still not possible to control exposure to a safe level after following the upper levels of the hierarchy of controls, PPE should be used as a last resort. PPE may also be used as an interim measure while other controls are being implemented. Protective eyewear and protective clothing are examples of PPE used to reduce exposure to light hazards.
Depending on the risk assessment, appropriate PPE may include eyewear, face shields, gloves, and lab coats.
Eyewear
Examples of eyeglasses appropriate for protection from intense visible light
If viewing of intense visible light or blue light cannot be avoided, amber-tinted eyeglasses or goggles should be worn. Human sensitivity in normal daylight peaks in the yellow part of the spectrum, so wearing a yellow lens that allows predominantly yellow light into the eye can provide the sense of increased visual acuity.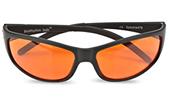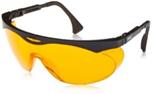 Use eyewear that is appropriate for the work. Special safety glasses are available for the visible light and IR ranges. For best protection, the eyewear should be compliant with ANSI Z87.1, which requires markings on eye protection that relate directly to the device's ability to defend against specific hazards. Eye protection that is Z87.1-compliant is marked with "Z87." Additional markings fall into three categories: impact vs. non-impact, splash and dust protection, and optical radiation protection.
Impact vs. non-impact: ANSI Z87.1 has two classifications for eye protection: impact-rated and non-impact-rated. Impact-rated eye protection must pass certain high-mass and high-velocity tests and should provide eye protection from the side. Impact-rated eye protection will have a plus symbol (+); thus ANSI-compliant impact-rated flat lenses are marked "Z87+."
Chemical splash and dust protection: Eyewear that meets the ANSI Z87.1 requirement for droplet (splash) or dust protection will be marked with a code that begins with the letter "D." Markings for different kinds of protection are as follows:
For droplets and splashes – "D3"
For dust – "D4"
For fine dust – "D5"
Optical radiation protection: A lens's ability to protect against radiation is indicated by a letter designation, which is typically followed by a rating number. The markings are as follows:
Welding filter: "W" followed by a shade number on a scale from 1.3 to 14
Ultraviolet (UV) filter: "U" followed by a number on a scale from 2 to 6
Infrared (heat) filter: "R" followed by a number on a scale from 1.3 to 10
Visible light (glare) filter: "L" followed by a number on a scale from 1.3 to 10
Clear lens: No additional marking
Variable tint: "V"
Special purpose: "S"
When appropriate, two additional markings will appear on eye protection:
Eye protection designed for a smaller head size will be marked with the letter "H."
Prescription lenses will have the manufacturer's logo.
The marking XXZ87+U6D3D4, for example, indicates that the goggles provide superior UV filtration and protection against splash and dust hazards. "XX" is a placeholder for the manufacturer's name.
Face shield
IR-absorbing full face shields should be worn in addition to safety glasses or goggles (goggles may not provide sufficient face protection). Severe skin burns can happen in a very short time, especially under the chin (which is often left exposed). Full face shields are the only appropriate protection when working with IR such as welding.
Green lenses can absorb a certain amount of UV, visible, and IR light, and these types of lenses are often used in welding operations. The lenses are marked with a shade number that shows the level of protection against hazardous light. For gas welding applications, lenses marked with a shade from 4 to 7 are commonly used, whereas in arc welding, the darker shade range of 10 to 14 is generally preferred. Green lenses are often also worn in metal foundries, or in other hot environments where IR light is a hazard.
Examples of face shields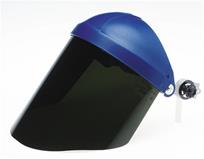 Gloves
When welding, hands are the closest part of the body to the arc and work piece. It is important that welder's gloves provide thermal insulation as well as a barrier blocking out UV, IR, and visible light frequencies. Tightly woven fabric gloves are recommended to protect against the significant amounts of UV and IR that may pass through to the skin. Gloves should be designed to cover hands and wrists and to overlap the sleeves.
Lab coat
Personnel should wear lab coats that fasten securely at the wrists and up the neck so that no skin is exposed. Note that burns to wrists and the neck are not uncommon.
Tyvek® protective wear, such as arm shields, coveralls, and lab coats, is NOT appropriate PPE because it may allow significant leakage of UV and IR through it.
PPE must be either readily available and cleaned between users or personally allocated to each user. Eye and face protection must be inspected either regularly or before each use for damage or defects such as cracks, crazing, or bleaching, and must be replaced when necessary. Note that PPE may need to serve multiple purposes, such as protecting against both chemical splashes and optical radiation.
Hazard warning signs
A warning sign must be posted at the entrance to labs or spaces where light exposure exceeds any of the limits.
Examples of visible light warning signs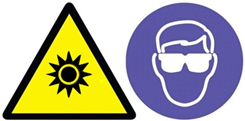 Examples of IR warning signs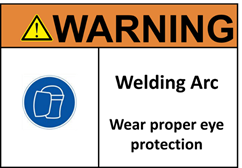 References
American Conference of Governmental Industrial Hygienists (ACGIH), 2016. American Conference of Governmental Industrial Hygienists TLVs and BEIs – 2016, incorporated by reference in 10 CFR 851, Worker Safety and Health Program – Department of Energy, §851.27.
Code of Federal Regulations, Title 10, Part 851 (10 CFR 851), Worker Safety and Health Program – Department of Energy, §851.23 – Safety and Health Standards.
Hathaway, J.A., and Sliney, D.H., 2017. Visible Light and Infrared Radiation, Chapter 13 in Physical and Biological Hazards of the Workplace, Third Edition. John Wiley & Sons.
Holzer, A.M., and Elmets, C., 2010. The Other End of the Rainbow: Infrared and Skin, Journal of Investigative Dermatology, 130 (6): 1496–1498.
International Commission on Non-Ionizing Radiation Protection (ICNIRP), 2013. ICNIRP Guidance on Limits of Exposure to Incoherent Visible and Infrared Radiation, Health Physics, 105 (1): 74-96.